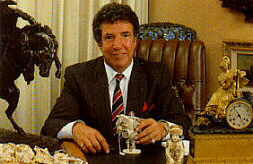 Carl Marcus, Chairman & CEO
A letter of thanks to our clients:
We have just finished the best year of our 40 years in business, and a great deal of our business was propelled by past clients continued patronage as well as their recommendations and referrals.
On behalf of my family, staff, and myself, I thank you. To express our gratitude, if you are a listed past client of ours, do not hesitate to ask my son or wife if there is any room in the item you are interested in to adjust the price. And behalf of all of us, I wish you good health, love, and the time to enjoy it.
~ Carl Marcus, Chairman & CEO
Home | About Us | Start Shopping Now | Contact Us